A memorable experience for someone dear
Offer as a gift a tandem paragliding flight
---
If is the birthday of (that) someone dear, you are by chance Father Christmas or Easter Rabbit, or simply you have thought of a surprise without a reason....well, you are in the right place !
There is a simple way to order for her or him a gift voucher for a true adventure.
For sure it will be an adventure remembered for quite some time!
Order now and you will receive a gift voucher with no name written on it. Anyone will be able to use for a whole year of validity for a paragliding tandem flight.
The voucher will not have a name on it. The data above are for invoicing purpose.
Pay online and you will receive by email the voucher you have choosed
The gift voucher is valid for a year since the date of purchase.
Pictures and video are included in the price.
Passenger weight must be between 30-100 kg for a basic flight and 40-80 for a long duration flight.
For more details, before placing the order, please read carefully our terms and conditions
And for finding out what type of flight suits him or her better  click here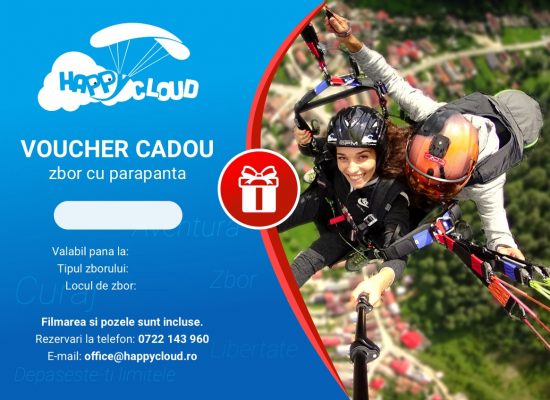 How does it work?
Complete this form with your data. We only need them for issuing the invoice.

Choose the location and flight type that best fit the lucky owner (you will find all the details below)

Pay instantly online by card or

Pay via bank transfer to our account

You will receive by email a ready-to-print voucher.

Print your voucher and offer it as a gift.

You're all set!
Questions? Call us at : +40722143960 Email us at: office@happycloud.ro
Paragliding flight gift voucher
Prices and details
Basic flight Bunloc
Total time: 60 min

Air time: 10-15 min

Pictures and video included

Passenger's weight: 30-100 kg

When: all year round
Long flight Bunloc
Total time: 90 min

Air time: 30 min

Pictures and video included

Passenger's weight: 40-80 kg

When: April-October
Basic Flight Poiana Brasov
Total time: 60 min

Air time: 15-20 min

Pictures and video included

Passenger's weight: 30-100 kg

When: December-April
Long flight Poiana Brasov
Total time: 150 min

Air time: 30-35 min

Pictures and video included

Passenger's weight: 40-80 kg

When: all year round
Sailing in Kos (Greece)
Duration: 7 days

When: June-July 2023

One place in a double cabin

All boat expenses are included

Number of gusests: 4 to 6