Flying spots
ÎNDRĂZNEȘTE SĂ ZBORI
 …și încearcă senzația de libertate pe care ți-o oferă zborul cu parapanta în tandem.
Deși avem mai multe locuri și flying types din care sa alegi, dacă nu ai mai zburat niciodată iți recomandăm pentru început un zbor de inițiere cu parapanta Brasov de la Bunloc. Timpul total necesar este de aproximativ 60 min (inclusiv urcarea și pregătirea zborului) pentru fiecare pasager. Filmarea și pozele incluse vor face amintirea ta memorabilă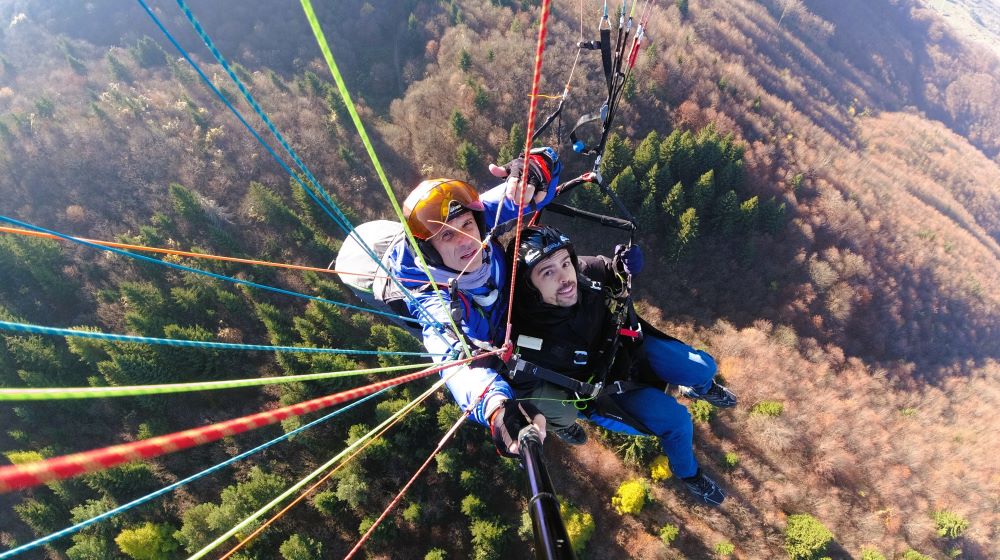 BUNLOC, SĂCELE
Just before entering in Brasov from Bucharest direction you will find the most popular flying spot for tandem paragliding - Bunloc. We will take off at 1200 m and land at approx. 700 m altitude. That will give us a 500 m level difference. From here you will be able to enjoy the view of Brasov and Sacele cities. But the view will continue with Bucegi and Baiului mountains. It is the most popular flying spot also because is very accessible - we have here a cable car taking us just at the takeoff. As for the landing - you will find it near the parking lot.
When we fly here: In general Bunloc is our summer location. We use it from April to October but sometimes in the winter too.
take off:: 45°35'22" (45.5895)N; 25°39'51" (25.6642)E – Alt : 1172 m.
landing:: 45°36'18" (45.6052)N; 25°39'33" (25.6593)E – Alt : 659 m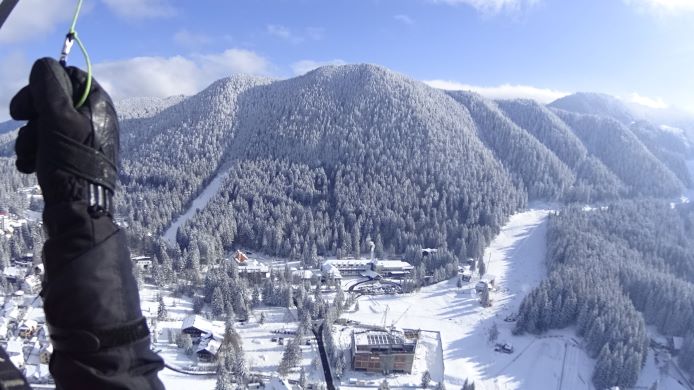 POSTĂVARU, POIANA BRAȘOV
The flight from here is more spectacular, with the take off at 1800 m (the height of Postavaru peak). The landing is just in Poiana Brasov sky resort. However we will tell you from the start that Poiana Brasov is not accesible every day, being more exposed to the winds. From this very reason we will use it especially for winter flights.. So, if you come for a sky or snowboarding Holiday you can combine this pleasure with the adrenaline of a memorable flight. Please check also our pictures gallery to have glimpse of what winter flying means.
When we fly here: Preferăm Poiana Brașov pentru un zbor cu parapanta tandem in special iarna. Deși se poate folosi tot anul, termicile sunt puternice aici și il folosim pentru zborurile termice și de cross country în timpul verii
take off: 45°34'3″ (45.5675)N; 25°33'50" (25.564)E – Alt : 1768 m.
landing: 45°35'33" (45.5925)N; 25°33'19" (25.5553)E – Alt : 1028 m.
MĂGURA BRAN, PREDELUȚ
Pornind din orașul Zărneşti până spre cabana "Gura Râului", una din porţile de intrare către Piatra Craiului, drumul urcă spre satul Măgura, unde ne vom lăsa maşiniile şi incepem urcarea (pe jos !) pentru 40 de minute de mers cu parapantele în spate. Măgura Branului este un loc ideal pentru hike & fly dar și pentru zborul de distanţă, pentru ore intregi petrecute in aer. De aici vom putea admira de sus creasta Pietrii Craiului, dar și Branul cu vestitul castel, precum şi oraşul Zărnesti.
When we fly here: Summer months and beginning of autumn, especially in the afternoon
take off: 45°31'28" (45.5246)N; 25°19'9″ (25.3194)E – Alt : 1251 m.
landing: 45°32'49" (45.5471)N; 25°18'11" (25.3031)E – Alt : 759 m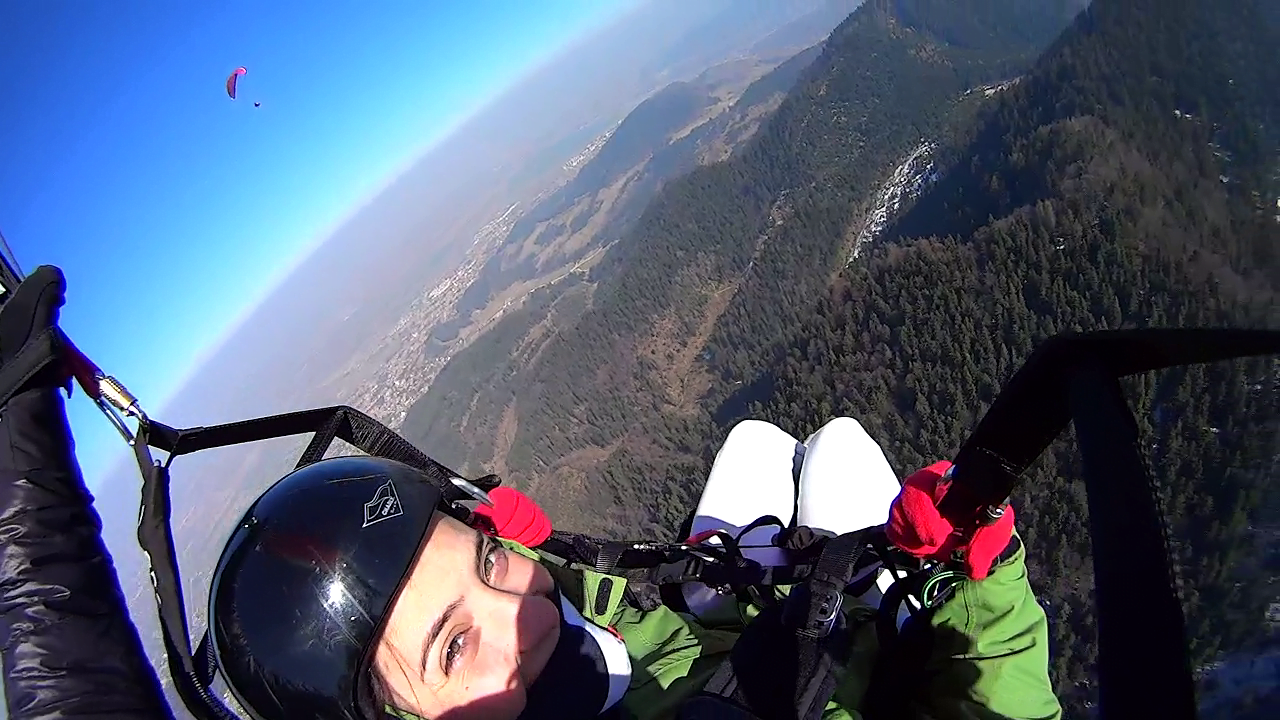 CRUCEA CARAIMAN, BUCEGI
If you are lucky enough to fly from here, for sure you will not forget easily. The landscape is beyond words, and even the fact that we will glide over crevasses and forests at above 2200 m will for sure leave you breathless! We will go up with the cable car from Busteni and we fly from here mainly in October and Novemberwhen the valley wind will allow us to safely land down below in Parahova Valley Please check out our presentation movie here.
When we fly here: October and November
take off: 45°24'59" (45.4165)N; 25°29'32" (25.4923)E – Alt : 2291 m.
landing: 45°23'56" (45.3989)N; 25°32'20" (25.5391)E – Alt : 850 m.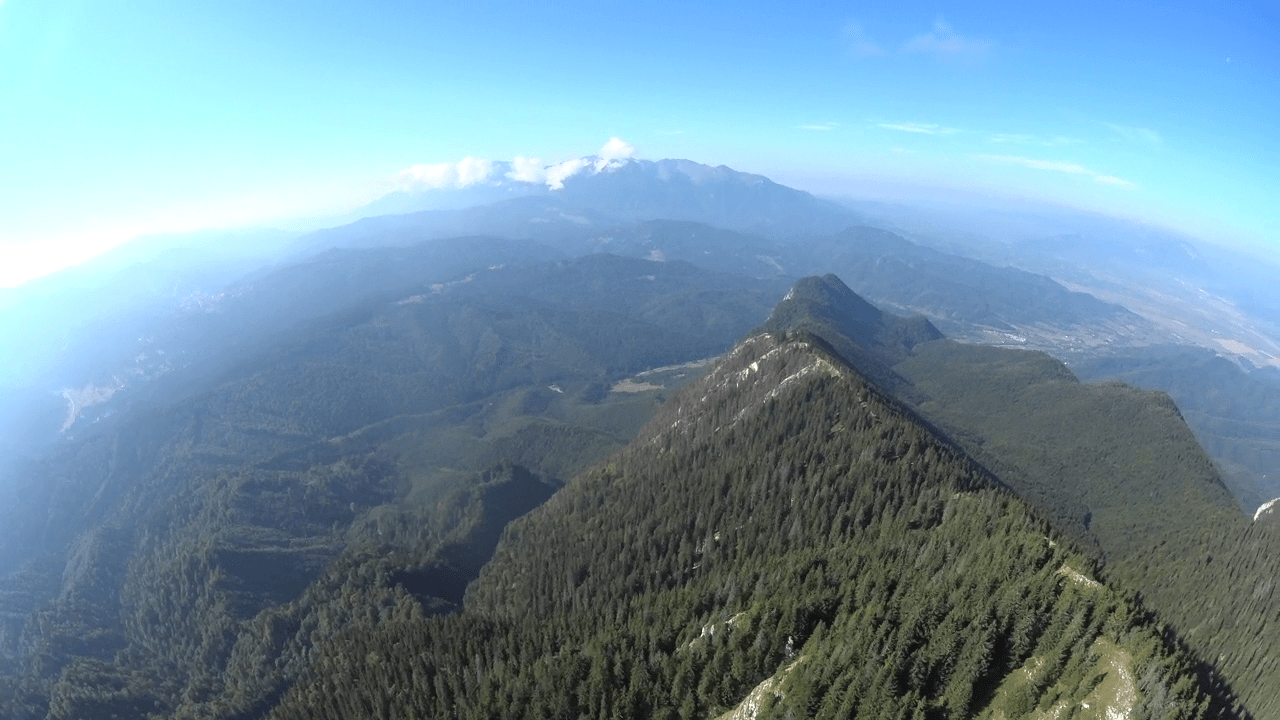 PRISEACA, STOENEȘTI, ARGEȘ
Laid in the hearth of Leaota Mountains in less touristic area, Priseaca is the ideal spot for thermal flying. Here, with the help of the upstream currents but also due to the local climate, we will be able to fly high, up to the cloud base! The landing will be either on top of the mountain, or down the valley in Stoenesti village. Priseaca is a spot with a "pedigree" being one of the spots where national and international paragliding championship took place. The flight itself will be spiced up with a special 4x4 vehicle (perhaps the most funny you have seen so far) that will take us to the take off. Meeting point for our flights from here is the center of Stoenesti village, Arges county, a few km away from the city of Campulung
When we fly here: Tot anul, dar avem nevoie de minim 4 participanți
take off:  45°17'29" (45.2914)N; 25°12'31" (25.2087)E – Alt : 1290 m.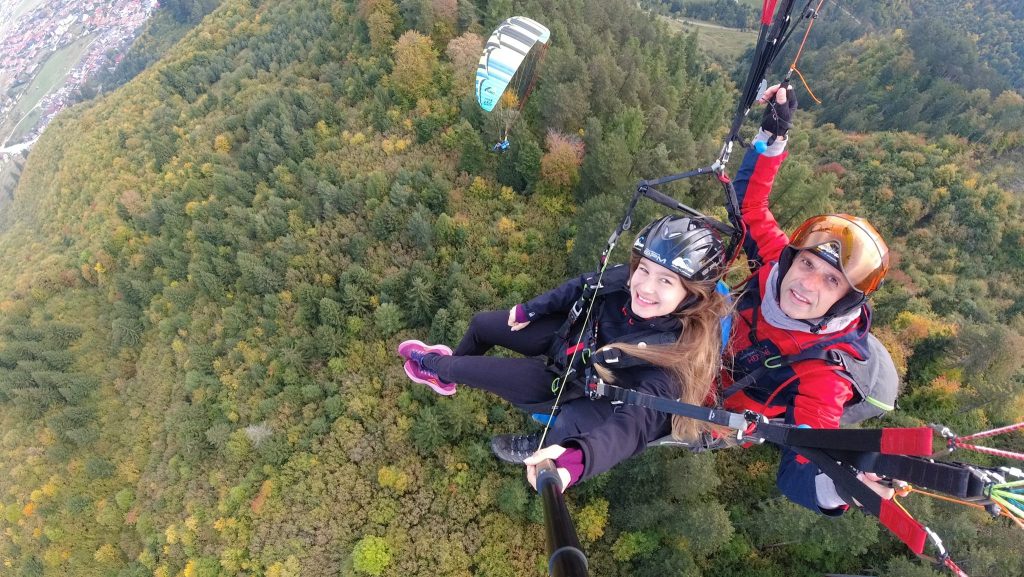 ZBOR DE INIȚIERE (BASIC)
This is the most popular flight type datorită accesibilității și costurilor reduse. Se adresează în special acelora dintre voi care gustă pentru prima dată frumusețea zborului liber – zborul cu parapanta. Vă propunem așadar un zbor calm de la Bunloc sau Poiana Brașov în condiții de maxim confort și siguranța. Numai pentru cei curajoși (și fără rău de mișcare) avem şi varianta "adrenaline" în care vom încerca împreună spirale accentuate și "wing over-e" trăind la maxim senzația. Dacă vom decola de la Vârful Bunloc din Săcele – avem nevoie in total de aprox. 60 min (inclusiv urcarea și pregătirea zborului) cu un timp de zbor de 10-15 min. În varianta vârfului Postăvaru din Poiana Braşov – avem nevoie de 60 minute in total cu un timp aerian de aproximativ 15-20 min. La noi, filmarea si pozele unui zbor cu parapanta Brasov sunt incluse in preț. Nu vă costă nimic în plus.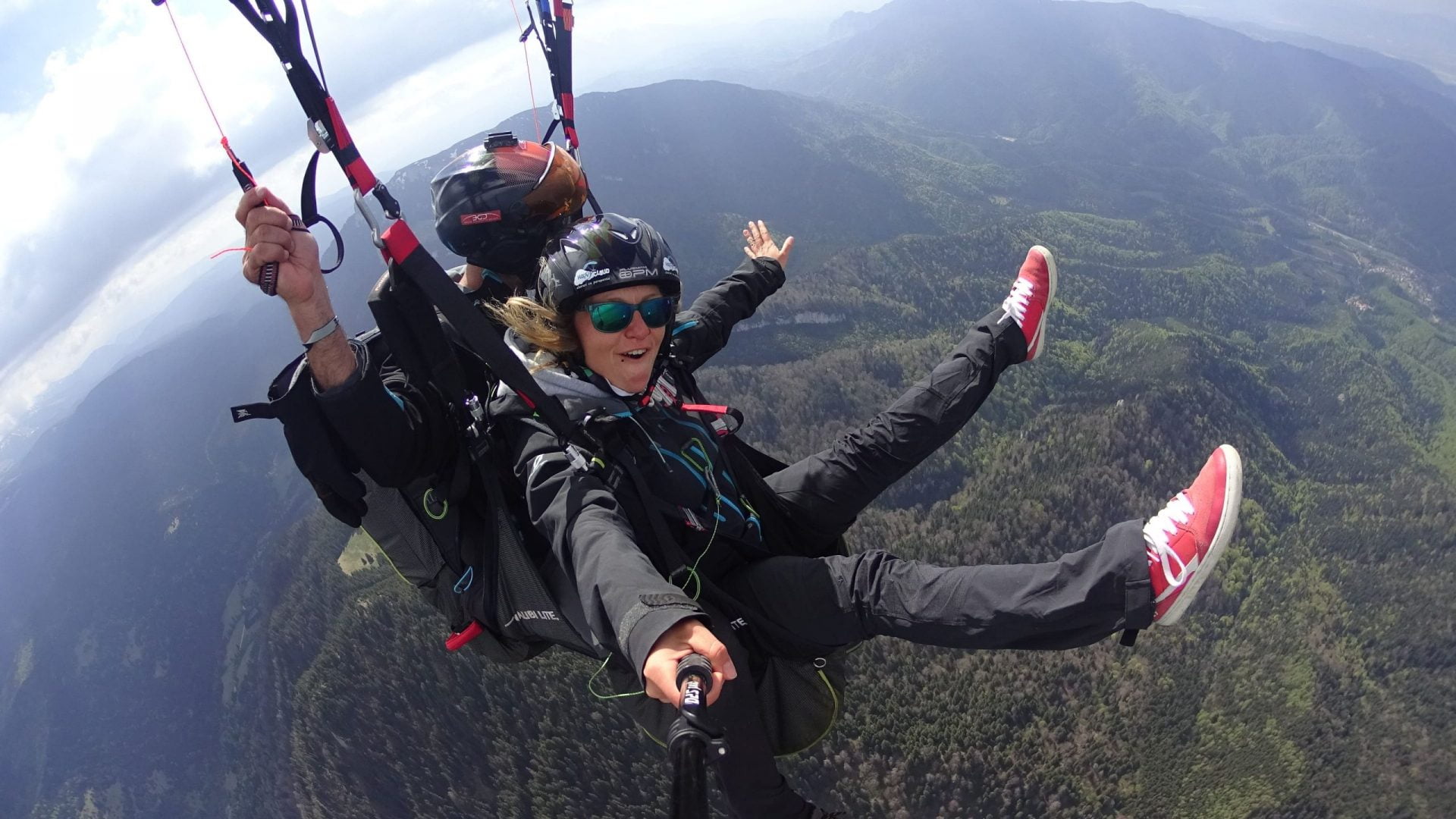 ZBOR DE DURATĂ (TERMIC)
Este un zbor cu parapanta Brasov destinat în special acelora dintre voi care au experimentat deja plăcerea zborului și vor mai mult. More time in the air, higher, further! Using upstream currents we will climb at 2000m altitude or more, we will cross forests and valleys and glide over mountain tops. It is a different experience and you should be ready for it ! Such a flight you can experience from April to September and only in the thermal active days with take off after 11.00. If we fly from either Bunloc or Poiana Brasov flying spots decolăm de la Bunloc sau Poiana Brașov durata zborului este de min 30 – max 60 min, cu un timp total necesar de 2 ore.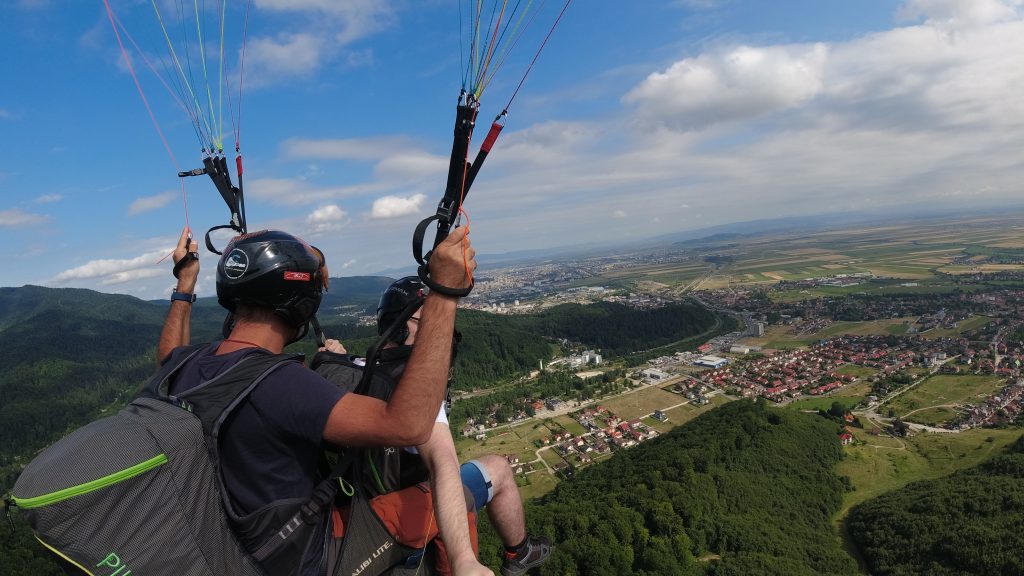 HIKE & FLY
Este un zbor rar, destinat iubitorilor de munte și hiking. Pentru că parapanta este până la urma un sport de munte ne-am gândit să vă dăm posibilitatea de a combina zborul cu drumeția montană ! Vom alege de această dată pentru parapanta Brasov AMgura Branului or Cheia/Muntele Rosu We will use the car to reach a certain point followeb ny a 40-60 min hike to the take off. A +15min flight back to the car or valley below will transform this in a memorable experience ! We will, however need a minimum of 3 participants. As always with Happy Cloud, the video and pictures will be included in the price.
Prices and details
ZBORURI CU PARAPANTA IN TANDEM
Zbor de ințiere Bunloc
350 Lei
Total time: 60 min
Air time: 10-15 min
Pictures and video included
Passenger's weight: 30-100 kg
When: all year round
Zbor de inițiere Postăvaru
500 Lei
Total time: 60 min
Air time: 15-20 min
Pictures and video included
Passenger's weight: 30-100 kg
perioada: Decembrie-Aprilie
Zbor de durată Bunloc
500 Lei
Total time: 90 min
Air time: 30 min
Pictures and video included
Passenger's weight: 40-80 kg
perioada: Aprilie - Octombrie
Zbor de durată Postăvaru
600 Lei
Total time: 150 min
Timp aerian: 30-35 min
Pictures and video included
Passenger's weight: 40-80 kg
perioada: tot anul L-V